Did you ever dream that waking up in the morning, Checking your laptop and finding something like this:-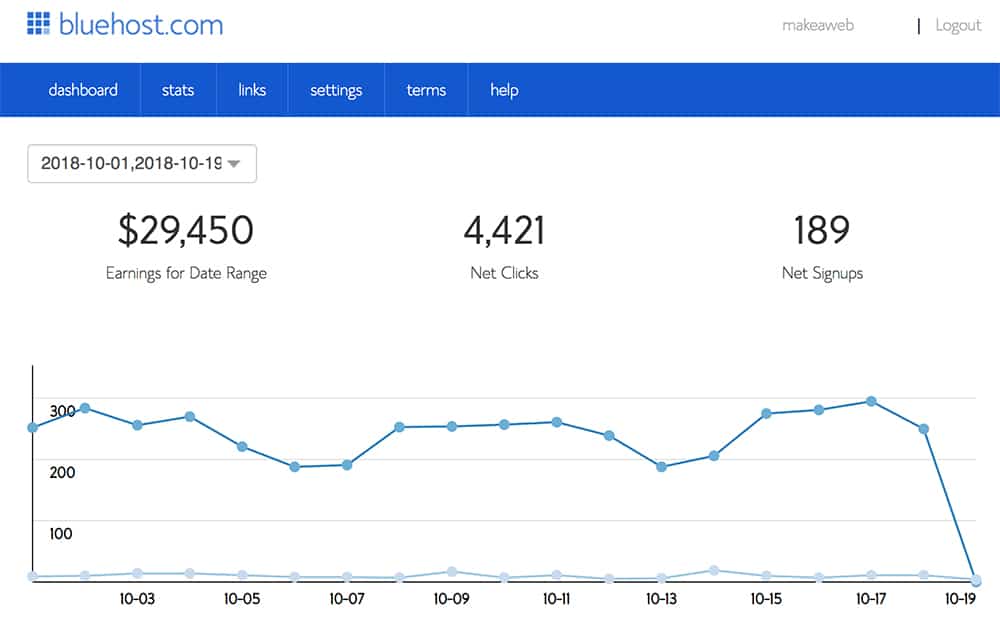 Passive Income.
That's the what you dream for?
Making money while you sleep.
If you want to start some business but you have no one money then affiliate marketing could be one of the best options for you.
This is especially for those people who love to work behind the laptop or kind of an introvert.
Affiliate marketing is a business model where you only need to promote other's product and earning a commission if a person buys something going through your link.
It's based on revenue sharing. If you promote other's product and someone make a purchase from it then you'll get a certain amount of commission depending on the percentage.
In simple words…..
Affiliate marketing is the process of earning a commission by promoting other people's (or company's) products. You find a product you like, promote it to others, and earn a piece of the profit for each sale that you make.
Mostly there are 3 people involved in affiliate marketing:- A merchant, the publisher(Promoter), and the customer.
It's sound preety simple. Right?
But the real truth is that it's not that much simply because you need to focus on many things.
Like if you want to start an affiliate marketing then you need to search for a valid platform that is actually performing good in the marketing.
Then you need to find a product that is actually providing value to one's life and then only you could make money from affiliate marketing.
Always keep one thing in your mind that you need to promote only that thing, that is connected to people's emotions.
Either it could be making money online or starting something with little or no investment or some physical product.
It's easy to sell the physical product because you need to search for those people who are interested in that product.
If it is digital product then it's quite hard.
Let's see where you can start…..
Let's consider thing involved in Affiliate marketing:_
A Merchant:-
A merchant is someone who creates the products or owns the right to sell the product. You can also via a third party affiliate program like amazon where you find different brands at the same product.
If you want to start, this is some websites that give you free access to their platform and I refer you to this website.
If you want sell physical products then you can join:-
If you like to learn from digital product and then able to sell that product then you can join:-
Clickbank
Digistore24
Commission Junction
You can join any of this platform depends on the way, how you gonna sell the product.
2. The Publisher:-
Here comes your part as an affiliate, if you like some product on the internet and love to share your experience online and some make a purchase from your review then you'll get the commission.
An Affiliate can be an individual or an entire company, depend on your way of sharing a review. People need authentic information about the product that's what they search online.
It's where marketing happens. An affiliate promotes one or multiple affiliate products and tries to attract and convince potential customers of the value of the merchant's product so that they actually end up buying it.
Here are some example who are making millions of revenue every year:-
Thisiswhyimbroke is one of the leading that helps people to buy crazy stuff, companies pay them thousands of dollars just to put the product on their website.
Now think for something different how you can make people love to buy through your links and if able to do that then there is a higher chance to get more earning.
Get sales and earn more. That's it.
All you need to do is to marketing.
3. The Consumer:-
Just think about that you promote the product but you are not getting traffic to your page.
Customer is the main thing you need to focus.
Because with the rule of probability, the higher the traffic you'll get the higher will be the chance to make money.
Consumer basically comes to your page or love to get the thing from your page when you provide them value.
Most of the affiliate provide this disclosure to their consumer.
Just think if you are generating trust by being transparent, people will love to continue to buy from your website.
It's all the game of trust.
Conclusion:-
Affiliate is not that much hard or as much as easy as it sounds. All you need a source of traffic by which you'll get more customers to the merchant.
Here is the best part, All the information I provide is basic information. Whether you read some blog on google or watch any video on Youtube.
You'll get only the basic because everyone wants to make money but don't want to share.
Step by step guide needs some investment and investment in learning is key to success.
I know this guy John Crestani who is doing affiliate marketing and making millions every month.
He provides all the information that you need to have success in affiliate marketing. Some of the things that he provides with his course.
Don't waste your time searching on Google, you'll not able to earn anything even for your living.
Thanks for reading this blog, if you like the content then please go share the blog to your friends and family.